With all that is going on in the world these days, writing up tip sheets for sales kits for books that aren't even going to be printed for months yet seems a bit superfluous.
I mean, jeez. There was a royal wedding to get all distracted about, fascinaters to make, scones and tea to consume and general huzzahing to do.
At my mom's: note her homemade scones. Mmm!
My low-key fascinater: fashioned from some Easter decorations lying around.
On the same day, a bunch of our books landed in the warehouse. Generally, this is a big day no matter what. I LOVE seeing the books all minty fresh out of the box but this lot was special for me and mine because the covers and general design were done by Comm Tech Unlimited - my son's company - and they look pretty darned awesome,
I
think!!
Sadly, the two Eric Walters books are available with these covers in the US only. But
The BEDMAS Conspiracy
is available in Canada!
Here is a link.
It's lots of fun for the 8-12 year-old crowd.
And since today marks the start of
Canadian Children's Book Week
, why not check out another -
Saving Armpit
- also being released this month? Baseball, mail, summer, cake - what's not to love?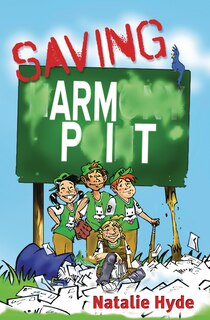 Saving Armpit - click here!
Then, of course, there are the elections today. I'm ready to take out the camera to get a picture of James voting in his first election. This is just a big as the first day of school, in my books.
Poor Patrick Chan - he wins the World Figure Skating Championships in spades but can hardly buy an inch of air-time what with the Stanley Cup playoffs, the aforementioned Royal Wedding, election coverage and now...Bin Laden's been offed, you say?
Plus, I can't get enough of those clips from the Correspondents' Dinner. ZING!
http://www.youtube.com/embed/HCkTzqIW-qw
Yep. Plenty out there to distract me from those tip sheets these days.
Back to Editoriania, though. These deadlines are fast approaching and the rest of the real world will have to wait.